Outsource Clipart Image Vectorization Services
We at Photo Editing Services India help you to convert your black and white line drawing clip art into vector file format at surprising prices. Our clipart image vectorization experts have sound knowledge in converting black and white line drawing clipart raster images into vector format without losing integrity of original graphic arts.
Advantages of Having Vector Clipart
If you have clipart pictures converted into vector format, it will allow you to enjoy the finest quality of black and white line drawing clipart. Vector clipart images are enlargeable, you can use them by scaling up or down for your different purposes on different size of documents. If you are a company then having clipart vectorization format is beneficial for you because there are many objects such as logo, banners, signs, graphics, charts, etc. that have to be re sized frequently.
The vector black and white line drawing clip art uses mathematical relations between points and the paths linking them to describe a graphic. In other words, vector clipart graphics are composed of paths which are more beneficial to show a detailed illustration.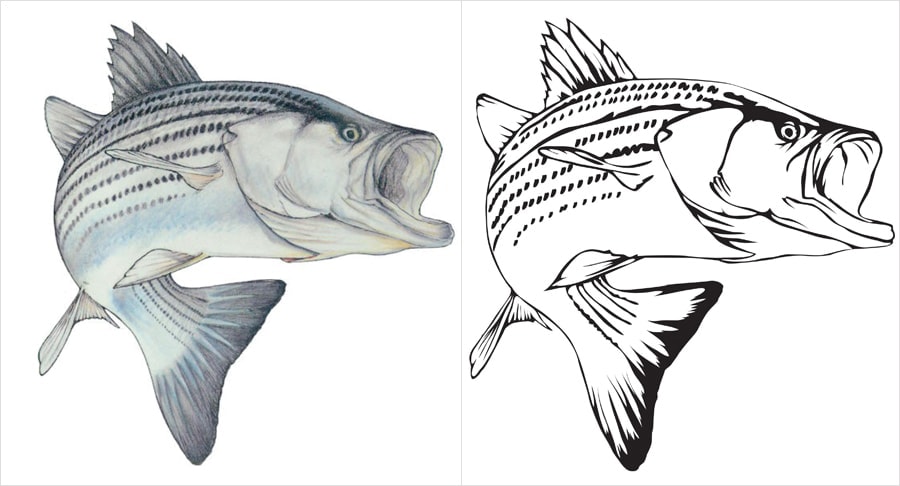 Why Smart Photo Edit for Clipart Vectorization Services?
Experience: We are a solid team of graphic artists with over 10 years of experience at converting raster images into corresponding vector files.
Conversant: We have a big list of clienteles from diverse industries across the globe, who use our services to convert their black and white line clipart from raster to vector.
Rapid Turnaround: Our clipart vectorization services experts work closely with each client to understand specific requirements and deliver outcome ahead of schedule always.
Inexpensive: You will find our services most affordable compared to other CAD or vector conversion service provider in the market.
Total Confidentiality: When you outsource clipart vectorization services to us, we keep your data and information secure and confidential.
24×7 Customer Support: We provide around-the-clock customer support for our clipart vector conversion clients.
We Are the Best for Clipart Image Vectorization Services
We are the best for all types of clipart image vectorization services as we have years of experience in the industry. Vector file conversion experts at Photo Editing Services India have served more than 500 clients worldwide who are satisfied with our dedicated vector clipart conversion services. Our customer support representatives are always here to answer your queries. We are fully capable to keep our clients happy with the finest quality of work, prompt turnaround and numerous modifications or alterations if required at reasonable prices. Therefore, contact us for your all clipart image vectorization or clipart image vector conversion services requirements and get them done within 24 hours.
Get in touch today to get no obligation quote for Clipart Vectorization Services.
Lets create great things together!
If you would like to know about any service or need any other assistance, please get in touch with us!
CONTACT US TODAY!
About Smart Photo Edit
Smart Photo Edit is an India (New Delhi) based photo editing company that provides high-quality image editing services to designers, photographers, e-commerce businesses, publishers, advertisers, printers and end users across the world. Since 2006, we have been serving diverse industry clients on a regular basis and delivering them results beyond their expectations in terms of quality and turnaround both.
Smart Photo Edit Contacts