Outsource Image to Vector Art Conversion Services
Vector images are leading-edge version of computer graphics, in other words we can say it's a revolutionary concept of imaging that is used by almost every industry including real estate agencies, portrait studios, manufacturing companies and corporate firms nowadays. Vector art is ideal for the organizations that make use of photographs at a large-scale size because vector graphics are created with geometrical shapes and can be resized effortlessly without any loss of quality.
Moreover, vector graphics attributes such as color, outline, shapes, etc. are easily editable by a professional for alternation or modification. The vector graphics are preferred choice for creating logos, portraits, sketches, badges, symbols, banners and other images where changes are frequent. You can easily convert your vector images into raster format (bitmap) when needed with high-resolution. We have over a decade of experience in image to vector conversion services that allows us to handle all your vector graphics needs perfectly.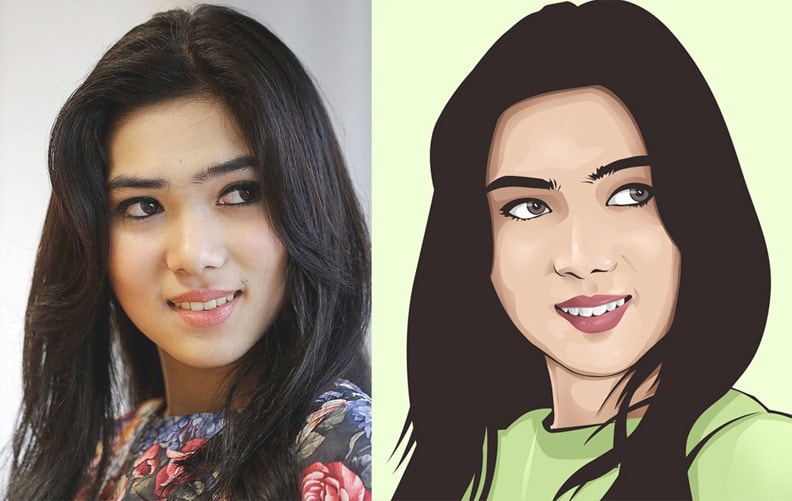 What our image vectoring services include?
The image vectorization services specialists at Smart Photo Edit are able to handle any type or size of project effortlessly and timely. We thoroughly understand specifications provided by you and closely look at the conditions of the raw images so that can offer you an exact turnaround time for the vector graphic project. Our experts are proficient in wide range of image vectoring services, here is a partial list:
Photo Conversion: We are adept at converting photos into vector graphics, no matters you have photos of human, animals, birds, objects, etc.
Maps: Our raster image to vector conversion experts can redraw diverse sorts of maps into vector graphics formats.
Logos: We can create new vector logo or re-draw existing one to improve resolution.
Banners: Our image vector experts can design vectorized banner or billboards with flawless quality.
Technical Drawings: With image vector conversion support provided by you, you can easily convert mechanical and engineering drawings into vector format.
Building Blueprints: The image to vector art conversion services professionals at Photo Editing Services India can also convert the blueprints of residential or commercial buildings into image vector format.
3D Models and Cartoons: Our vector conversion team can re-draw 3D models, animated cartoons, equipment, etc. and deliver you a brand-new vector conversion copy.
Our image vector conversion professionals use latest software (including Indesign and Illustrator), tools and techniques to convert your images into high-quality vector graphics.
Key advantages of vector images
The vector images are resolution free, while bitmap images are resolution restricted
Vector image file size is smaller compared to the file size of bitmap image
Bitmap images are not good for printing, vector images are preferred format for printing
At the time of resizing bitmap images lost their quality. Alternatively, vector image you can resize without any loss of quality
Vector images are made up of mathematical line and shapes, while bitmap graphics are made of tiny dots "pixels"
Bitmaps graphics are bound to a fixed rectangular shape while vector images are sovereign of the rectangular shape
Why choose us as your image vector services partner?
You just need to send us your images with detailed instructions (for alternation, if needed) and our image to vector art conversion services experts will convert them into useable vector format. The image vector conversion team at Smart Photo Edit draws or re-draws all vector images manually and precisely. Also, our image vector team is comfortable to work with almost any file format including PCX, PDF, PICT, IMG, TIFF, JPEG, GIF, etc. to produce desired vector image outcome.
The vector files created or designed by us include many editable components, which we draw while processing your image vector files. Here is what you get a result from us with a vector file:
Lets create great things together!
If you would like to know about any service or need any other assistance, please get in touch with us!
CONTACT US TODAY!
About Smart Photo Edit
Smart Photo Edit is an India (New Delhi) based photo editing company that provides high-quality image editing services to designers, photographers, e-commerce businesses, publishers, advertisers, printers and end users across the world. Since 2006, we have been serving diverse industry clients on a regular basis and delivering them results beyond their expectations in terms of quality and turnaround both.
Smart Photo Edit Contacts