Jewellery Retouching Services
We need to go through a specialized process for jewelry photo retouching. It is not an easy task and is far more complex than retouching other images. Jewelry products are in a great demand across the world as they not only make a woman look beautiful, but also increase the level of her confidence. Jewelers are choosing jewelry retouching for offering their products to the customers attractively.
If you are in a search of ways to enhance your already existing catalogs and eliminates the flaws from your jewelry pictures? Retouch jewelry photos to create tempting catalogs for attracting maximum shoppers at your store. To represent best of your work to your valuable clients, you can outsource jewelry photo editing and retouching project to us.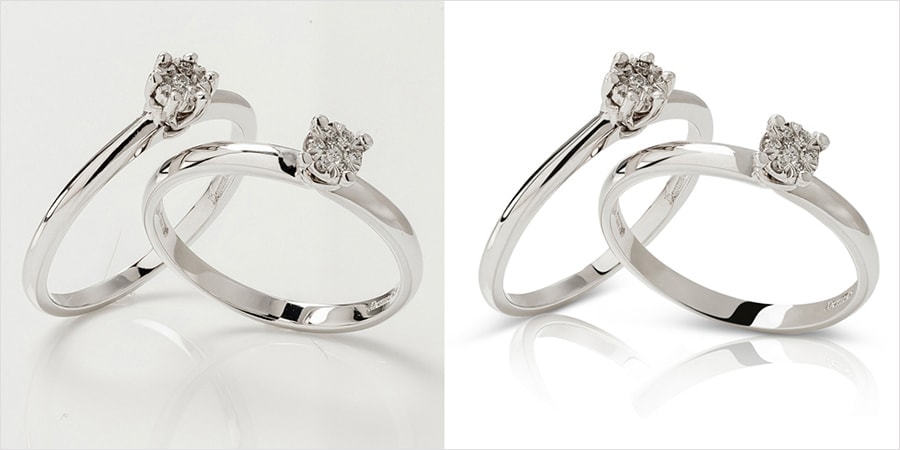 How Smart Photo Edit Helps You with Jewelry Photo Retouching
At Smart Photo Edit, we strive to deliver high-quality jewelry image editing services to our clients globally. Our team is expert in jewelry retouching that understands the necessities of our clients and works towards fulfilling their needs. Our experienced jewelers work with the latest jewelry retouching solutions and boost the look of your jewelry images. We can eradicate spots from your images, adjust poor contrast, settle color combinations, improve image details and remove dullness, making your images flawless.
Here's a quick view of the various methods involved…
Removing the stains, spots and molds (moulds)
Removing the stains, spots and molds (moulds)
Removing the large and small objects
Removing the large and small objects
Fixing pictures that are too dark or too bright
Fixing pictures that are too dark or too bright
Repairing the scratches, tears and cracks
Repairing the scratches, tears and cracks
Restoring the faded contrasts
Restoring the faded contrasts
We at Smart Photo Edit are equipped with the latest software and tools, and offer impeccable jewelry photography retouching services to our customers from all over the world. We are identified to deliver perfect outputs that are sure to bring success to your business.
Outsource Your Jewelry Image Editing Work to Us
Our main focus is jewelry photography retouching. With a rich experience of more than a decade and a half, we have delivered high quality services in combination with 100% customer satisfaction. We at Smart Photo Edit leave no stone unturned in ensuring that the results provided by us help you grow in your business.
We have 10+ years of experience in jewelry retouching services and deliver you results at reasonable price.Our team use latest jewelry photo editing techniques to bring out clean and enhanced images.
We have capabilities to retouch hundreds of jewelry photos within 24 hours
We are expert in all kinds of photo editing
Our experienced team can correct the colors of your image efficiently
We provide free samples
We can work on various file format such as JPEG, TIFF, or RAW formats
How Outsourcing Jewelry Retouching Services Can Enhance Your Productivity?
Handover the basic initial aspect of image editing to a low cost, high production Jewelry Retouching Services provider.
Ensure the shutterbugs, visualizers and senior editors at your end, spend time on providing more value-added services
Ensure resource crisis does not stop your business acquisition, engage an effective Jewelry Retouching Services provider who will customize a delivery plan and never say "NO" to any of your business needs.
Smart Photo Edit Jewellery Retouching Services Process
Transfer Raw Images – Transfer of raw images from client on defined FTP.
Work Instructions – Outline editing instructions after client discussion.
Sort & Allocate – Images assigned to editors with examples and copies of instructions.
Edit Images – Our photo editors understand project guidelines carefully and deliver results within stipulated timeframe.
Check Quality – Bulk images moved to QC department for discerning checks for quality.
Transfer Final Images – Final processed images uploaded to client in desired format for review.
Lets create great things together!
If you would like to know about any service or need any other assistance, please get in touch with us!
CONTACT US TODAY!
About Smart Photo Edit
Smart Photo Edit is an India (New Delhi) based photo editing company that provides high-quality image editing services to designers, photographers, e-commerce businesses, publishers, advertisers, printers and end users across the world. Since 2006, we have been serving diverse industry clients on a regular basis and delivering them results beyond their expectations in terms of quality and turnaround both.
Smart Photo Edit Contacts